The Pala d'Oro - top section


The thirteenth-century top section shows New Testament scenes. It is thought that they were taken from the Monastery of Christ Pantocrator in Constantinople, now the Zeyrek mosque. They represent important feast days. More on feast days to come.
The first three show Christ's entry into Jerusalem, the Descent into Limbo, and the Crucifixion. Orthodox theology does not recognise Limbo: the correct word is anastasis, which is shown in Greek at the top of the scene. Christ is releasing two figures, probably Adam and Eve, from imprisonment. This can be interpreted as Pascha, or Resurrection, the main feast of Easter. The placing of the scenes is not chronological; possibly they were rearranged in the fourteenth-century reworking.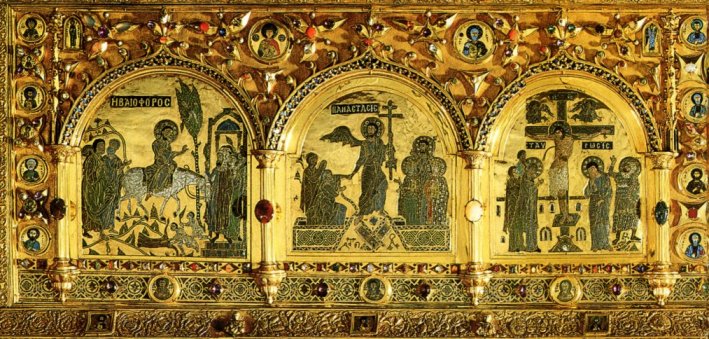 The second three images show the Ascension, Pentecost, and the death of the Virgin, perhaps better described as the Dormition, given its Byzantine origin.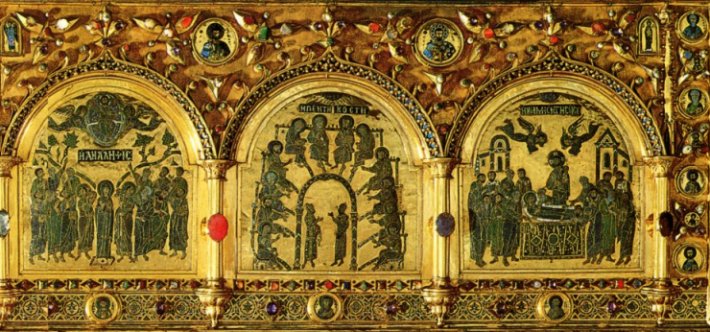 The centre panel shows the Archangel Michael between two cherubim. Around are enamelled medallions showing saints, including

St Cyril, St Peter, St Paul, St John the Baptist, St Matthew, St Philip, St Bartholemew, St Andrew, St Gregory Thaumaturgus, St Theodore, St Tryphon (Patriarch of Constantinople) St Pantalon, St Basil, and St John Chrysotom.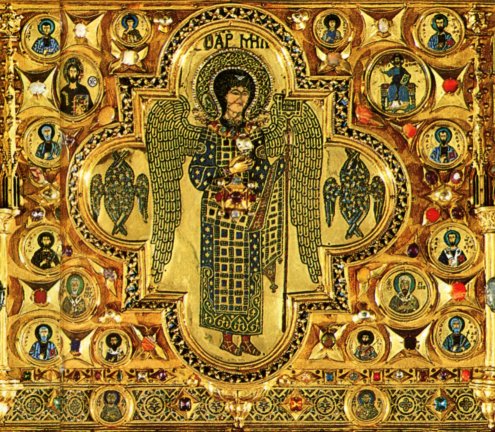 On to angels, apostles and prophets
Pala d'Oro page 1
Home page - explore the site